Welcome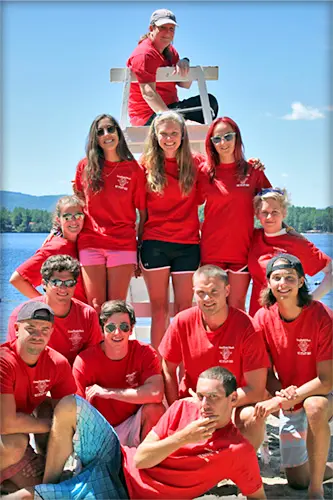 Thank you for your interest in working at Camp Robin Hood this summer.
At Camp Robin Hood we truly are a family. Head Counselor Chuck Illig began at Robin Hood in 1965, Associate Director Michelle Brockman in 1990, and Head of Riding/Office Manager Diane Morath in 1993. Our director Woody is a former camper, counselor, and camp parent who understands the unique responsibilities—and rewards—of working at Camp Robin Hood. When you come to Robin Hood, you can expect constant support, encouragement, and advice from our supremely experienced Leadership Team.
If you accept a job at Robin Hood, you will be working at one of the most beautiful places in New England. Founded in 1927, we are located in the picturesque White Mountains and along the shores of the Broad Bay section of Lake Ossipee. Your office will be 180 acres of flat fields, towering pine trees, and pristine lakeside waterfront.
The health and happiness of our campers are of paramount importance to us. In order to prepare you for the experience of working at camp, all new staff members are required to participate in a six-day pre-camp orientation to create the foundation for a successful and memorable summer.
JOIN the Robin Hood Family!